For St. Patrick's Day this year, my friend and I made a vegan dinner before going to see The Tossers (I've seen them 3 times in the past year... I think I may like Chicago Irish punk too much). Before our cooking extravaganza, I had made Irish Soda Bread a couple days before and froze it. I used the recipe out of

The Joy of Vegan Baking

by Colleen Patrick-Goudreau (check out her website and listen to the podcasts!: Compassionate Cooks).
Note: do not use a bread maker to make the soda bread! I found over breakfast with Colleen (this story is for entirely different blog post - I organized an event at Loyola last week where she came and spoke about veganism!) that it kneads the bread too much. Use a pan and stick it in the oven.
I made about 7 loaves or more of bread that week, mostly Irish Soda Bread, but also the Mediterranean Olive Bread and the Cornbread out of
The Joy of Vegan Baking
. The overall rating seemed to be that the soda bread and the cornbread were much better than the olive bread, according to my parents (who got one of each of these breads). Also - I do not recommend freezing the bread and then shipping it. Just ship, no freeze. I mail a lot of baked goods now-a-days, so I'm trying to learn about shipping goodies.
The St. Pat's Day meal consisted of Irish Stew and Cabbage and Potatoes gone vegan. I used this Irish Stew recipe, but added some oregano (2 teaspoons) and celery (2 stalks - chopped) to it too.
Cabbage & Potatoes
* Prep Time: 15 minutes
* Cook Time: 40 minutes
* Ingredients:

3 tablespoons soy butter

3 tablespoons olive oil

1 head of cabbage (shredded)

3 Yukon Gold potatoes (diced and sliced)

1 white onion (cut up - diced)

1 tablespoon red wine vinegar

1-2 tablespoons of lager and/or water

1 teaspoons salt

1 teaspoon black pepper

* Recipe:

Add soy butter and olive oil to a medium sized pot and allow to melt.

Next, dice and slice the potatoes and add to the pot.

Allow the potatoes to become golden brown (10-15 min) and then add the cut up onion, salt, and pepper.

After the onions have become translucent (5-8 minutes), add the shredded cabbage.

The cabbage will begin to wilt. As it does this, add the red wine vinegar and the lager and/or water.

Allow to simmer for 30 minutes.
* Notes: If you feel, add more soy butter or olive oil as the cabbage begins to wilt. Stir during this process and mix it with the onion and potato. For the lager, I use Harp's which is vegan.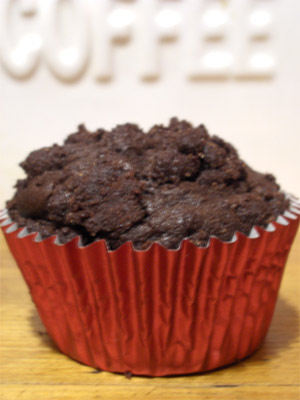 So, we ate the stew and sopped it up with the soda bread and had the cabbage and potatoes on the side. Now, dessert was quite special. We made Vegan Irish Whiskey Cake using this recipe. It turned out very good! We used Bushmill's whiskey for it. It was quite soft and delicious. I sold the left over cake at a bake sale that Monday and people were a bit skeptical of the idea of whiskey cake. I had to keep telling them it was coffee whiskey cake. Those that did try it agreed that is was amazing! I also sold Chocolate Stout Cupcakes from

Vegan Cupcakes Take Over the World

. Surprisingly not a lot of people knew what stout was? Or they were not expecting it in a cupcake. Make sure your stout is vegan, though! Check out Barnivore!
The other night I made a blueberry cake loaf. I used
The Joy of Vegan Baking
yet again (I do love that book - it is so well organized!). I recommend using fresh blueberries to frozen ones. The juice liked to melt on me from the frozen ones. Or at least microwave them a bit and drain the juice if you go the frozen route. Check out the result:
Lastly, I am very into creating care packages. Here is a gloriously themed St. Patrick's Day care box. There was a lot of different random things in the box for the boyfriend but to note there was a loaf of the Irish Soda Bread and some Sugar Cookies w/ Green Sprinkles (I used the Sugar Cookie recipe from Colleen's baking book - told you I love that book). I recommend not over baking them... as I did. I went a smidge too long and they got rather crispy, needless-to-say. My father who also got some said he dunked them in his coffee in the morning and sopped them up with his ice cream at night and they were tasty. Apologies to boyfriend, dad, and boyfriend's dad for hard cookies!!
If you have care box ideas, send them. I'm obsessed. My desire is to be a vegan punk rock Betty Crocker and I think I'm succeeding, haha. Just sent out the Easter one which I will show you pictures of later, I am sure (after he gets it).
Mediterranean Olive Bread
: 4/5?
Irish Stew
: 3.5/5 (I think it could have been better... I feel something needs to be added to the broth. I will probably mess around one day and figure out what!)
Vegan Chocolate Stout Cupcakes
: 5/5 (everyone loves these things... I have non-vegans asking me for the recipe all the time!)
Blueberry Cake
: unknown (no one has had it yet!)
Sugar Cookies
: 4/5 (because I fail, I need a rematch!)